Introduction
The Overseer model uses animal production to determine the energy requirements of animals and therefore the amount of food eaten by those animals. Within the model, animals are allocated a combination of supplements and pasture to get this energy. Overseer subtracts the energy gained from eating supplements from the energy required by the animals to determine the amount of pasture eaten and hence pasture grown.
This means that for the analysis to be valid, a feasible farm system must be entered into the model. To help with assessing the feasibility of the entered system, OverseerFM has developed benchmarking of pasture growth against other farms in the system.
This feasibility report should be used as part of the decision support process alongside other tools which you may regularly use, such as other software, feed budgeting, industry production data, local farm information etc.
This benchmarking compares the pasture growth on blocks with similar characteristics to each of the blocks on the farm. Users of OverseerFM can compare the modelled pasture production of their blocks with others to see where they sit and whether that makes sense for their farm. If growth seems outside what would be considered normal, the user can check the inputs (animal numbers and distribution, supplements fed and utilisation) to see if there are any mistakes in data entry, or unrealistic production expectations. For scenario analysis it should give a guide of what is feasible within the planned farm system.
How to use the Feasibility report
While in an analysis select Overview and then Feasibility to view the feasibility report that shows benchmarked information.

Once the data is loaded you should see a set of bar graphs similar to those shown below.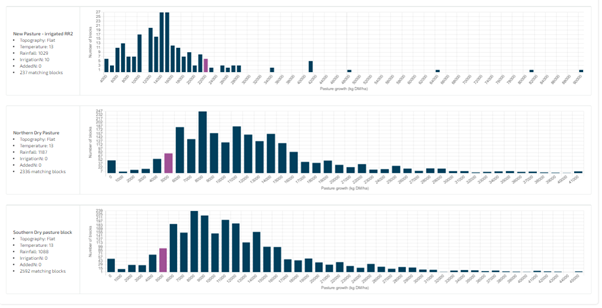 For each farm block, the system finds all blocks that have similar topography, temperature, rainfall, N applied in irrigation and N added as fertiliser and effluent. Each column in the graph represents the number of blocks that have a similar pasture growth (within 1000 kg DM/ha range). The first column is the number of blocks with pasture growth between 0 and 1000, the second column is the number between 1000 and 2000 etc.
The purple bar is where the block from the analysis you are in sits on the scale. In the example shown above, the first block is slightly higher than other similar blocks, while the next two are slightly lower. This might make sense to the farmer because of the nature of the farm, or it might raise questions as to whether the analysis has been set up correctly. Adjusting animals and supplements will affect pasture growth on the blocks.