While each data entry tab contains summary information, results and key summary information about each analysis is presented in the Overview tab.
The Reports tab includes several different reports: Farm Summary, Farm details, Block summary, Block details, Compare blocks, Animal reports, GHG and Feasibility. Comments about the analysis can be added, edited and viewed from here as well.
The Farm Summary report summarises all information about the farm. From this report, you can select another analysis to compare, which will show a side by side comparison of differences between the two analyses. This replaces the existing compare tool, and is very useful to compare changes to a farm over time or when doing future planning. From this report you can generate a Farm Impact Report for inclusion in a Farm Environment Plan.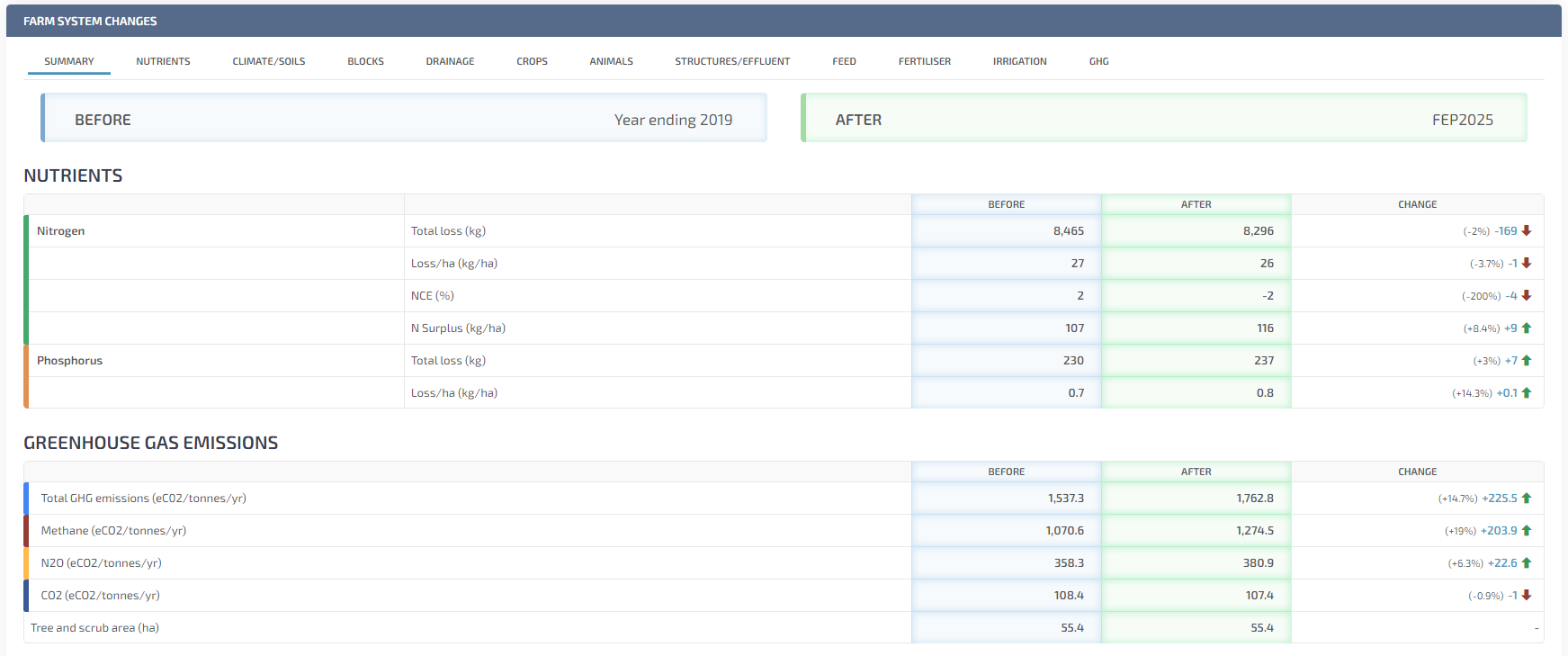 The Farm details report can be tailored by clicking the information to be viewed. This report includes the Farm Nutrient Budget and Effluent report.
The Block Summary report includes bar graphs showing block N and P-loss rates and total losses to compare the performance of different blocks and identify "hot-spots".

It also shows a visual summary of the key management activities per block (by clicking on the block name or arrow to expand the table) to enable an initial check of the validity of the farm description.
The Block details report shows the farm map with the drawn blocks which once clicked the details for that block are displayed. This includes maintenance nutrient requirements and the block nutrient budget.
Compare blocks is a report that presents the blocks according to different management and results categories. All blocks can be compared, or like blocks (pasture, crops, other).
Animal reports provide information about each enterprise including: stocking rate, monthly intake (ME & DM) and excreta, and ME source/diet. This report is generated even if a nutrient budget can't be produced and provides a way to review animal inputs.
The GHG reports provide a break down of farm level emissions (Methane, Nitrous oxide, carbon dioxide) by source, product footprints for all products leaving the farm gate, and if forests have been entered into tree blocks, the carbon sequestration potential of forests on farm.
The Feasibility Report enables the user to compare the pasture growth for each of the blocks on the farm with "similar" blocks across the country. This will highlight any blocks that have modelled growth which is not in line with what you would typically see for those blocks. If the pasture growth seems to low or high, it would indicate that there might be a problem with the setup of that analysis (animal numbers or feed). For a guide to this report please click here.