OverseerFM now auto assigns soils to a block using the S-map information available. Up to three soils can be added to a block. Each soil is defined as representing a percentage of the block area.

These auto-assigned soils can be edited by selecting the block name, which will bring up the Edit Block Soils screen.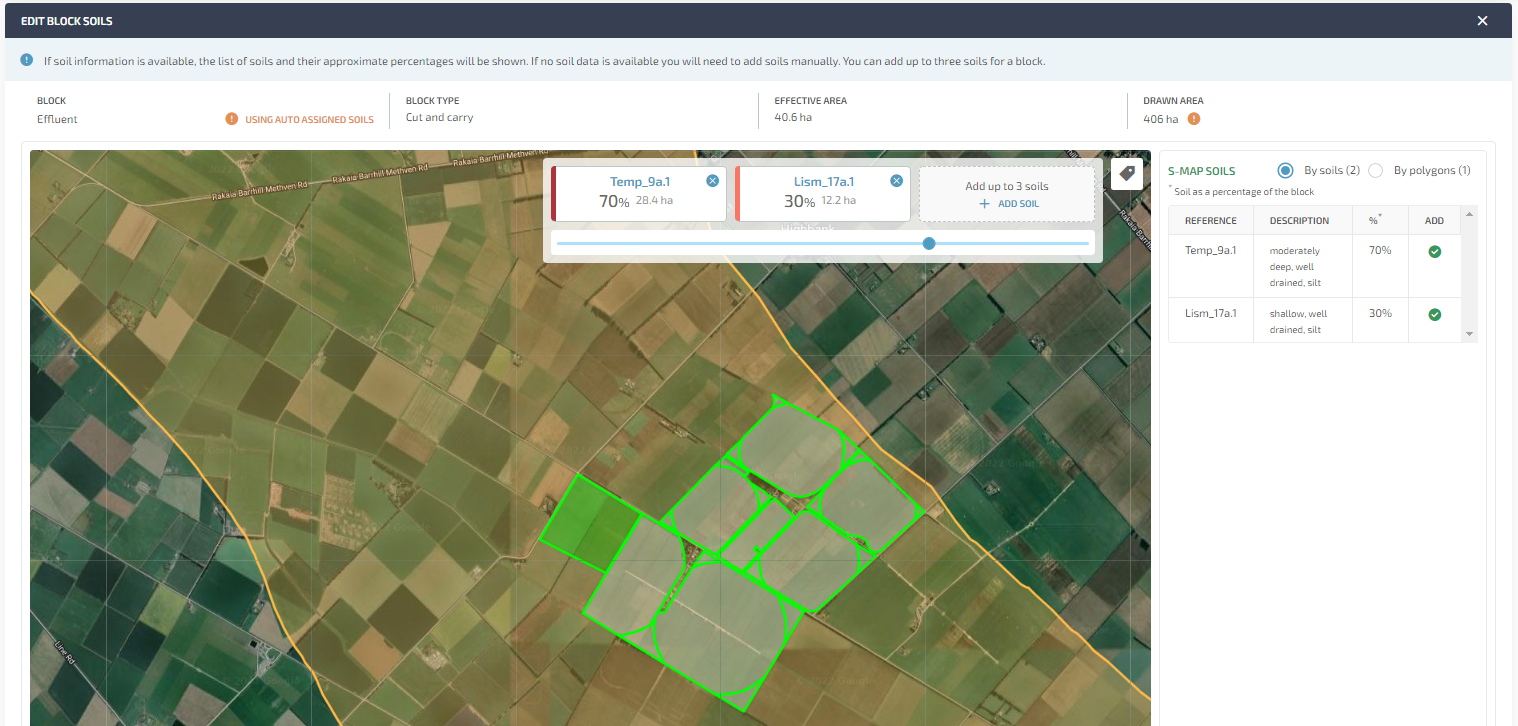 The S-map soils (where available) that intersect the block are shown on the map. The soils (siblings) are listed in a box at the top right of the map. You can switch between viewing by sibling reference or viewing by polygon (soil outline).
The soil areas drawn on the map are called polygons. Each polygon may contain one or more soil siblings as defined by Landcare in S-map. Where there is more than one soil sibling within a polygon, each soil sibling is given a proportion (percentage of the polygon that is likely to be that sibling).
Each polygon defines a percentage of the block that it intersects. The total percentage is determined by multiplying the proportion of the polygon by the percentage that polygon intersects the block.
Currently OverseerFM does not return polygons that are less than 2% of the block. Therefore, the total intersecting percentage may not add to 100.
Select '+' for the soils that you wish to add to the block. Only add dominant soils, such that any single soil is not too small in area.
Using soil order/group
If there is no SMap data available or it is not deemed appropriate, soils can be added manually. Selecting 'Add new soil' will launch the following. You can select an existing soil (one that has been used on another block), enter an SMap reference or select soil order and/or group.
Using farm soils
Soils that have already been used on the farm are also displayed in a table on the map. These can also be selected for the block from here.
Adjusting soil percentages
Adding soils will populate the block soils section (shown below). You can adjust the percentages of each soil by selecting and dragging the blue circles on the slider. No single soil can be under 10% and the total of all soils must equal 100%.