OverseerFM automatically creates an organisation when you register. The organisation will have the name that you entered when you registered.
If you want to operate as an individual user, you do not need to do anything.
If you need to create an organisation that will include multiple users or have been invited to an organisation you will need to follow the instructions below.
Before registering your organisation, check with your colleagues that it has not already been registered in OverseerFM. If you are unsure, please contact the Helpdesk
Setting up an Organisation
If there are many users within an organisation who access the same farm accounts, an administrator can set up an organisation and invite users to join. This applies to farm consultancy organisations, fertiliser consultancies, farming organisations (where they have multiple Overseer users) and councils.
The person who sets up the organisation is the default organisation administrator and has the rights to add/remove other users, including additional administrators.
To create an organisation with multiple users you can edit the Name of your organisation by clicking on the Organisation Settings and editing the Name field. You can then start to invite others to join the organisation.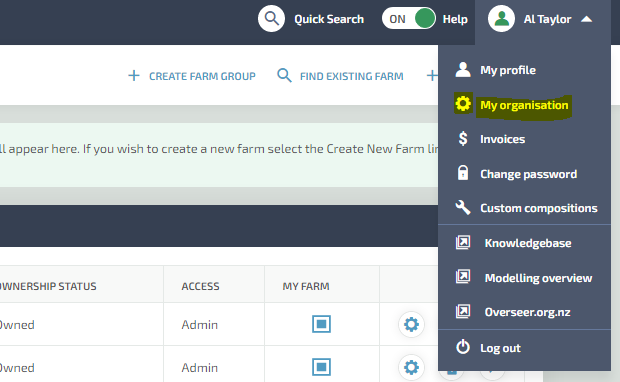 By using your registration to set up an Organisation you will automatically become the Organisation Administrator, but you can add other administrators to the Organisation by clicking the square under IS ADMIN? This will allow them to invite and remove users. Please ensure that your Organisation has more than one Admin - as this makes access easier should you have staff changes.
Inviting people to your Organisation
To invite other users to join your organisation, click on Invite User and enter their email address in the pop-up screen. You can only enter one email at a time. They will then be sent an email asking them to accept the invitation. If they are not yet registered users, their invitation will take them to the registration page, and then ask them to accept the invitation. The invited user will show as pending until they accept the invitation.
Accepting an invitation to an Organisation
If you are invited to join an organisation and do not have a User Profile you will receive an email with a link that will take you to the registration page. Once registered you will need to accept the invitation notification on your dashboard.
Moving between organisations
Users can only belong to one organisation at a time. If a user wishes to move to a different organisation, the administrator of the organisation they are moving to sends them an invitation, and their acceptance of that invitation removes them from their previous organisation.
If they wish to leave without an invitation to another organisation, the organisation administrator will need to remove them using the "X" remove button. The user then becomes an individual organisation (default to their user name), and the user will have not access to any farm accounts (even if they set some up previously). They will need to either request access or set up new farm accounts.