Summary
Supplements can be imported or harvested from blocks. They may be stored and/or fed out to animals while on structure or in blocks.
The following diagram depicts what parts of the model the supplements information entered in OverseerFM impacts. For a full interactive view of the scientific model in its entirety please click here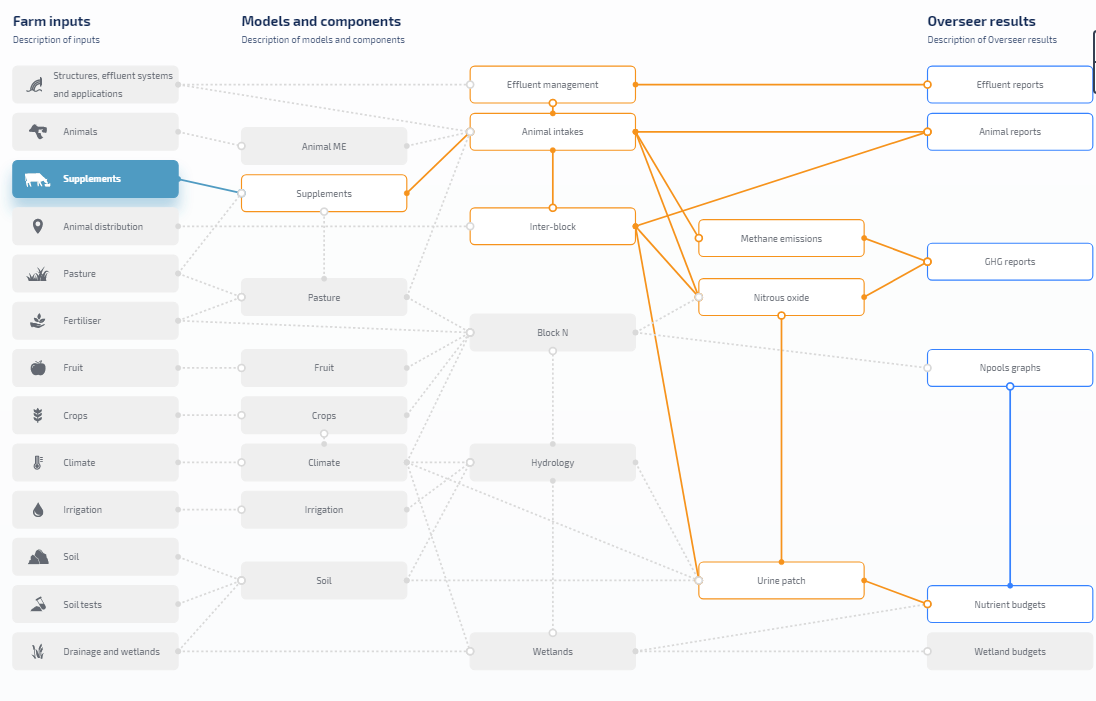 Impact
Supplementary feed provides metabolic energy to the animals and defines where they are located on the farm. The nutrient concentration of the feed determines the nutrient intake of the animals and hence nutrients in excreta. Harvesting moves nutrients around the farm, while importing introduces nutrients onto the farm.
Advice
Use average storage and utilisation unless have good reason to change it
Details
Supplementary feed may be harvested on farm or imported. It has a category and type of feed if imported. This determines its ME content and nutrient composition. If a supplement which is used on farm is not already included, custom supplements can be created provided that the nutrient composition of the supplement is known.
These supplements are then fed out to the animals directly, on blocks or on structures. It is possible to distribute percentages across blocks and months, but the more detailed the information the more likely that the model will struggle to allocate feed appropriately. Keep the information at a high level and only use these more detailed functions when it materially effects your decisions around analysing change.
Using supplements instead of fertiliser or using supplements with higher ME content and lower nitrogen content can lower potential for N content in urine and hence potential for N leaching.