Benchmarks show how your farm's results compare to other farms in OverseerFM. From the farm home screen, select 'View Benchmarks' for the year end analysis you wish to compare (circled in red below).

The benchmark graphs show your farm's results (N loss, N surplus, P loss, GHG emissions and drainage) against other farms in OverseerFM. Each graph shows the number of farms (y-axis) that have the result shown on the x-axis. The purple bar indicates your farm's position relative to the other farms.
You can filter the results by enterprise, region and year using the drop-down menu at the top of the screen.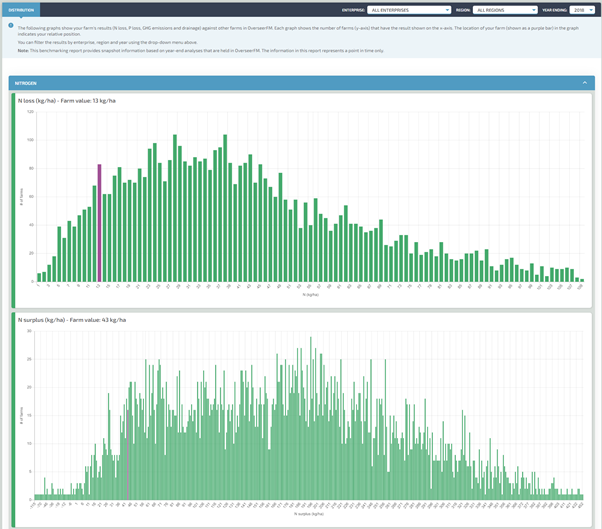 In a small number of cases, no purple bar may appear. This will happen if an analysis is an outlier compared to the rest of the dataset. The definition of an outlier is a data point (analysis result) that differs significantly from other observations. Technically for benchmarking they are values that are more than 1.5 times lower than the first quartile or higher than the 3rd quartile. Outlier results are most likely due to inaccurate data input.