In OverseerFM, the regions are based on underlying data in the model and may not match Regional Council boundaries. The map below shows the OverseerFM regions. Selecting the correct region for your farm is important because it sets model defaults for a range of values, especially around climate.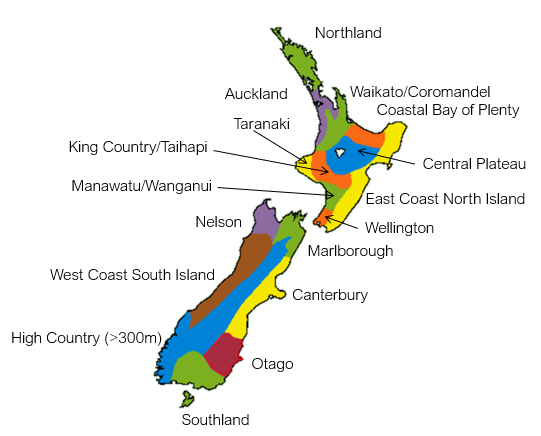 The selection of Nearest Town and/or Region sets the climate patterns used to distribute daily rainfall and temperatures for the farm and determines typical seasonal climate variations. Climate information is important because it influences drainage and therefore nutrient losses.
The region is the average of the nearest towns in that region. For this reason, we recommend choosing a nearest town if it has generally the same conditions or region if there is not a nearest town to the farm location.
If your farm is close to a regional boundary, select the region that best reflects your farm. Settings can be changed within Manage Farm Settings. It is recommended that this is to be done by the farm owner only.
Note: Changing the farm location (region or nearest town) at any time could change outputs from the model.