Arable and vegetable crop sequences can be complex, with multiple crops in a year. The challenge when setting up this type of rotation is to capture the  sequence of events including cultivation, sowing, harvesting/defoliation, fertiliser and irrigation. It is important to capture these events as they have an impact on nutrient cycling. It is also important that the analysis captures the full crop rotation (i.e., crops in Year 1 and the reporting year, as well as correct 'years in pasture'), to capture the rotations nutrient cycling appropriately.
Crop rotations are diverse and complex and for this reason no default is provided. Information describing all events associated with the crop rotation over the two year period must be obtained and entered into OverseerFM.
To initialise the model, events occurring the year before the reporting year must also be entered, hence the crop rotation page captures crop activity over a two year period. All management activities and events occurring during the reporting year and year 1 are recorded month by month using the crop rotation table. The table uses icons to depict the sequence of events. 
To enter an activity, select the + on month required. Only one event can be entered per month. 
All crops sown should be entered, providing all of the required information, e.g.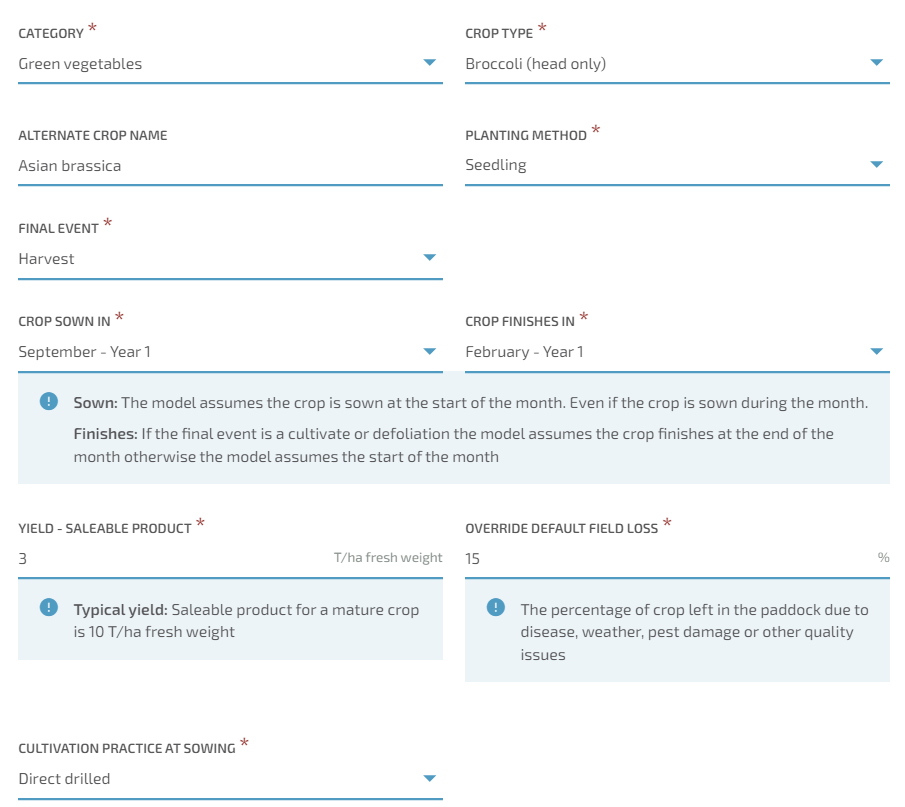 Alternate Crop Name can be entered which will override the Crop Type selected. This new name will be displayed in the crop model. 
When Grain, Seed, Green vegetables, Legume Vegetables and Other Vegetables have been selected as a category, the Residual Management Method must be selected.
Seed also requires further information on Month Seed Harvested and Defoliation Management.
When Permanent Pasture has been selected as a category, Defoliation Management must be selected. 
When Root vegetables has been selected as a category, Residual Management Method and Months After Initial Harvest Crop Removed must be selected. 
When stock is grazing a crop this is entered as a defoliation. The months the crop is grazed should be selected. In the final defoliation month, ensure final Harvest is selected. 
Once information has been entered, it can be edited by selecting the event and selecting Edit sown.  A crop or any management activity can be deleted by selecting the event and selecting Delete.
Fertiliser and Irrigation inputs are entered into the crop rotation via the Fertiliser and Irrigation input tab.