If a year end analysis is accidentally deleted or has been replaced, you can restore previous analyses using the restore function. Only year end analyses can be restored.
The farm home screen has a button called "Restore deleted year end analyses" as shown below.

If the farm does not have any deleted year end analyses the following screen is displayed.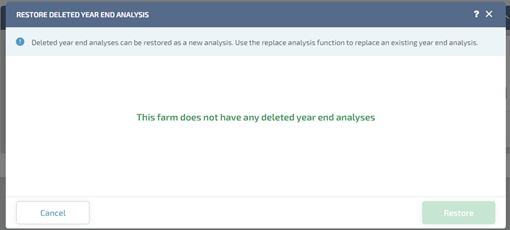 If year end analyses have been deleted, a list these will be displayed within the "Analysis to restore" drop list. Each deleted analysis states when it was deleted and who deleted it. The user can now select the analysis they would like to restore.

A deleted analysis can be restored as any type of analyses (ie year end, predictive or scenario). If restoring to a year end analysis you cannot choose a year that already has a current analysis. If you wish to replace an existing analysis, you will need to restore it as a predictive analysis and then use the replace function.