Each farm can have one year end analysis per year. Once that analysis is published to an organisation it cannot be deleted. This has caused some problems for users that wish to replace the existing analysis with a more complete or accurate version for the farm. A new function has been developed to allow users to replace an existing year end with another analysis to solve this problem.
On each year end analysis there is a "Replace" button.

On selecting the "Replace" button the following screen is displayed.
The analysis can be replaced with any analysis within this farm. It can also be replaced by any publication that you have access to, if you wish to revert the analysis to one that was published at some time in the past.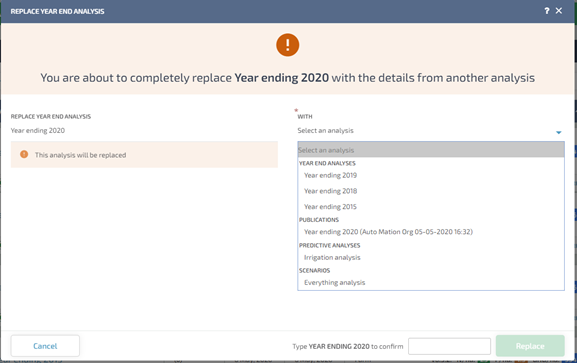 Once an analysis or publication is selected, the two analyses are compared, and the differences are shown. This is a good way to see how these analyses differ before replacing.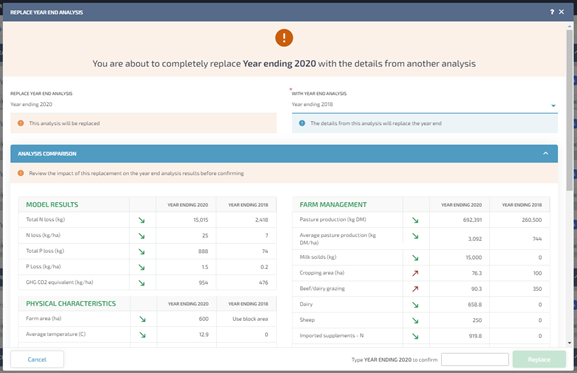 Replacing a year end analysis will overwrite all the existing year end data. Therefore, there is an additional confirmation step required before the replacement can be saved.
Once an analysis or publication is selected the user will be required to type in the year ending text – for example "Year ending 2020". Once the correct text is entered the "Replace" button will be enabled and the replacement can occur.

An audit entry is created against the year end to show that it was replaced.

The analysis that is replaced is deleted from the system. If for some reason it needs to be restored, use the restore analysis option described in the "Restoring deleted year end analyses" article.