How to view my payment transactions
All payment transactions made can be found within OverseerFM once you are logged in. These can be found by clicking on your profile at the top right of the screen and selecting the menu item 'my payment transactions'.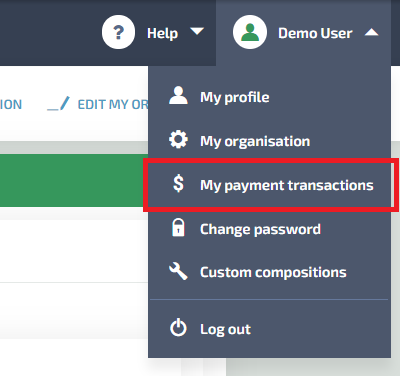 This will open the 'my organisation' screen up on the 'payment transactions' tab (see below). All payment transactions are displayed and invoices of successful payments can be generated and downloaded from here.
Payment method: you can filter a list of transactions by the method of payment which can be by invoice, POLi or credit card. If a credit has been put onto your organisations account by Overseer because you have pre-paid, the transaction will be displayed as a bank deposit.
Status: you can filter a list of transactions by their status. A payment status transaction can be one of the following: paid, pending, declined or aborted.
Farm: you can filter the list of payment transactions by the farm that has been paid for. The list will contain any farms that you have paid for overtime.
Month: you can filter the list of transactions by the month the subscription was paid for.
Farm payments only: this check box filters out bank deposit transactions from the list.
Last 50 payments: this check box shows the last 50 transactions, disregarding the month. If this check box is selected the month filter is removed.

How to generate my invoice
Within the payment transaction screen an invoice will be generated if a successful payment transaction via POLi or credit card has occurred for a farm(s) subscription. To view this there will be an invoice link within the invoice column - see below. Once clicked a new tab on your browser will open with an invoice that can be printed or downloaded.